Plant Finder
Very Important Gardener Club
Planting Container Service & Design
Designing Perennial Bed
Phone app
Wolf's Blooms & Berries V.I.G. Very Important Gardner Perks:
*Invitation to shop 1 day (of your choice) the first 2 weeks we open and recieve 20% off everything in-store (excludes mulch). In order to obtain VIG status each year you must spend $450 in one season!
*Receive $5 off for every $150 spent
*Opportunity to earn free gifts!
*Receive "The Dirt" Gardening Guide
*V.I.G. members will automatically be on our mailing list!
and most importantly....
Confidentiality Policy (what happens at Wolf's stays at Wolf's)!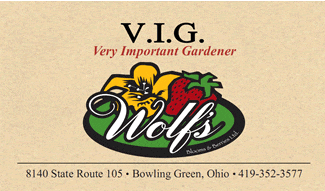 Wolf's New Phone App:
Go to the Play Store (Android devices) or the App Store (Iphone devices) to download the app.
It's FREE, FUN and REWARDING!!!